Schedule a driveway washing service to boost your home's curb appeal.
Have you ever seen one of your neighbors get a new driveway installed? After the surface has solidified, the flawless, clean surface might put your old or worn-out driveway to shame. If you're looking for a simple way to improve your home's overall appearance, you may not need to completely replace your driveway. Instead, a professional driveway washing service might be all you need to restore your home's curb appeal.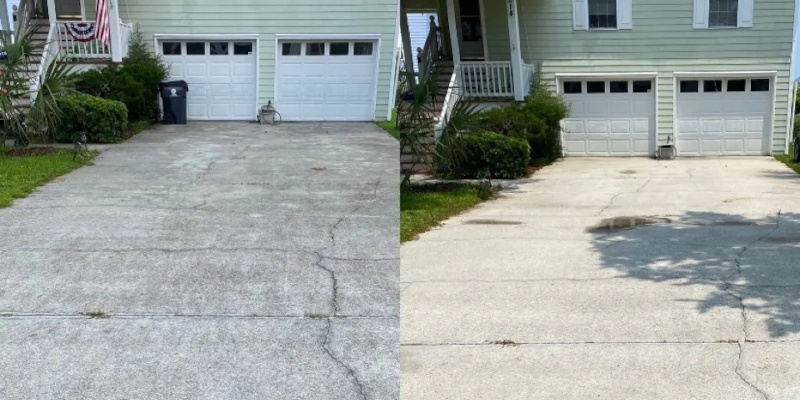 Here at Pelican Prowash, our professional team is proud to serve people throughout Wilmington, North Carolina and the surrounding region. One of the many exterior cleaning services we offer is driveway washing solutions for homeowners who want to get rid of stubborn stains, debris, and other grime on this major outdoor feature.
If you choose to connect with us for driveway washing services, one of our experts will meet you at your home to examine your driveway in closer detail. They'll be able to determine which of our biodegradable cleaning solutions will be needed to gently and effectively remove different types of contaminants and prevent buildup from recurring in the near future. Unlike other companies, our organization uses soft driveway washing techniques to avoid causing damage to other areas of your property or yard.
Although some homeowners think that pressure washing is their best option to quickly clean off their driveways, this tactic doesn't truly treat the contaminants at the source. Instead, pressure washers simply blast away debris without actually cleaning the surface. Soft washing, on the other hand, eliminates debris and sanitizes the surface to keep your driveway looking clean for longer.
If you have any questions about our driveway washing methods or you'd like to schedule an appointment, please don't hesitate to give us a call today!
---
At Pelican Prowash, we offer driveway washing services in Southport, Chapel Hill, Cary, Apex, Holly Springs, and Wilmington, North Carolina.