Our fence washing methods can quickly improve your landscape.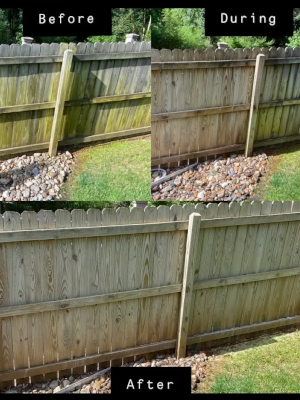 Whether you have a fence surrounding your entire property or just a decorative garden fence, it still adds a lot of personality and visual interest to your yard. So, when your fence starts to look a little dirty or worn out, you can turn to our team for professional fence washing services.
Here at Pelican Prowash, our team is proud to provide soft washing solutions for residents in Southport, North Carolina and surrounding areas. We believe that our fence washing methods are for anyone looking for safe, biodegradable, and highly effective cleaning solutions. Unlike other outdoor cleaning techniques, soft washing doesn't require high water pressure, harsh chemicals, or other potentially harmful tactics.
If you decide to reach out to our team for fence washing assistance, one of our experts will arrive at your location to closely inspect the fence and determine what type of cleaning solutions will be necessary. Our experts will create the best biodegradable cleaning formula to treat any buildup you have on your fence, such as mold, dirt, or mildew, and use gentle streams of water to thoroughly clean and sanitize the whole surface. Additionally, these eco-friendly cleansers treat different types of contaminants at the source to completely eliminate all traces of unsightly buildup and help prevent your fence from getting dirty again.
Instead of reaching out to a pressure washing company or renting a pressure washer yourself, our team encourages you to give us a call first. If you want a clean fence that stays clean for a longer period of time and won't harm your lawn or plants, our fence washing methods are your best option. Simply give us a call today to learn more, or schedule a fence washing appointment!
---
At Pelican Prowash, we offer fence washing services in Southport, Chapel Hill, Cary, Apex, Holly Springs, and Wilmington, North Carolina.