Our soft washing services will keep your outdoor structures spotless and ensure that they remain in great condition.
We are John and Amber Buchholz. We are a husband-and-wife team, working together to soft wash homes and business. John has 15+ years of experience in landscaping/pressure washing. Amber switched gears and brought her customer service experience to Pelican Prowash.
As a team, we have been trained by SoftWash Systems and we are now Authorized Professional. We continue to work with SoftWash systems to earn CEUs and maintain our credentials. Also, as a team, we have been thoroughly vetted. Each member of our team has a criminal background check that is renewed each year. You can ask to see any member's badge with verification of their background check.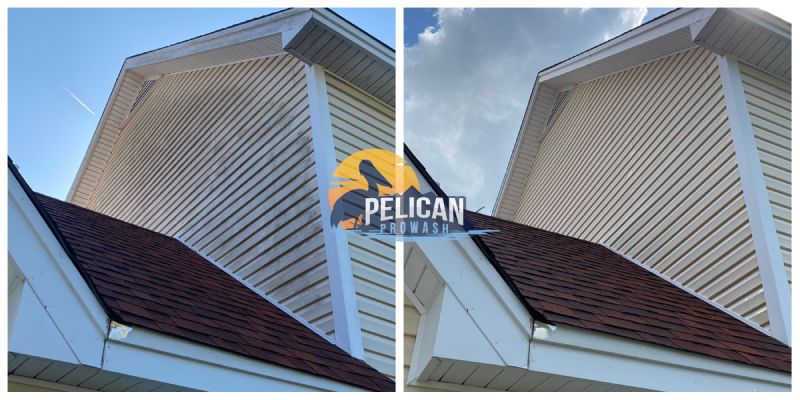 At Pelican Prowash, we know how frustrating it is when your home, business, or other exterior structure starts to look dirty and grimy. To help you keep your property looking its best, we offer a wide range of exterior cleaning services designed to get rid of that grime. In addition, our soft washing methods will prevent dirt and grime from coming back, as they target the root cause of dirt buildup.
To put it simply, what causes dirt to collect on your exterior surfaces is microorganisms such as mold, mildew, and algae, which trap dirt particles within their colonies. Our soft washing services are designed to eliminate these organic contaminants—we first treat the target surface with a specialized blend of cleaning solutions that will kill the microbes and loosen the dirt and grime to make them easier to remove.
Then, once the cleaning solutions have had time to work, we gently use water to wash all the grime away. This combination produces a more thorough clean than washing with water alone, and it creates more long-lasting results as well. In addition, by getting rid of mold, etc., soft washing protects your structures from the damage these microorganisms can cause, ensuring that the materials remain in better long-term condition.
We are proud to serve Chapel Hill, Cary, Apex, Holly Springs, Southport, Wilmington, Wrightsville, Hampstead, North Carolina and surrounding areas, and we want to help you take the best possible care of your property. If you are interested in giving our soft washing services a try, just
give our team a call
to schedule an appointment. We look forward to working with you!