The best way to wash your concrete is to leave it to our professional team.
Between driveways, walkways, and patios, there are a lot of places you might find concrete in your yard. It's a very versatile and durable material, after all. But when the time comes to clean it, it's important to trust the right people to do it with the right method. You'll get exactly that when you trust our team at Pelican Prowash. With a commitment to your satisfaction and a unique cleaning method that's both gentle and highly effective, we are proud to offer you concrete washing in Southport, North Carolina or surrounding areas.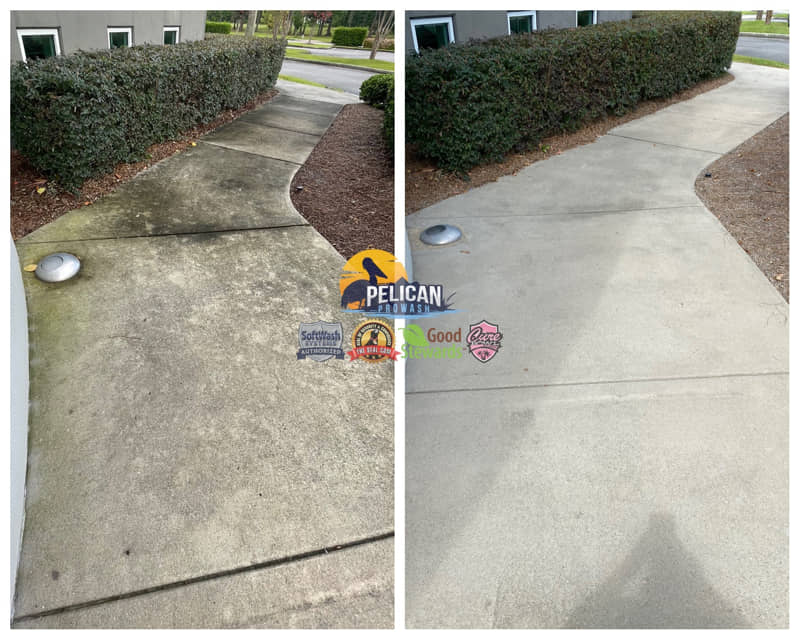 Despite the popularity of conventional concrete washing methods, such as pressure washing, concrete isn't as resistant to damage as most people think. High pressure can cause pitting or cracking in its surface, so a gentler approach is necessary if you want your concrete to last long. That's where soft washing comes in.
This unique method has been around since the 1990s, though it's new to many people. Rather than rely on highly pressurized water to blast away dirt, soft washing relies on water-based and biodegradable soaps that work to break down dirt and kill organic contaminants like mold, mildew, algae, and bacteria in a safe manner. That means your concrete comes out cleaner and stays that way for a longer period, since the soaps thoroughly sanitize the surface.
If you need concrete washing at your property, you can trust that we have the proper credentials to provide it. We have been trained by SoftWash Systems and have also attained Certified Applicator Level. To schedule your on-site consultation for concrete washing, contact our team today.
---
At Pelican Prowash, we offer concrete washing services in Southport, Chapel Hill, Cary, Apex, Holly Springs, and Wilmington, North Carolina.