If your deck looks dirty or worn out, contact us for deck washing services.
When you have a deck in Wilmington, North Carolina, you have access to a great place to entertain guests and relax all year long. However, just like with any other area that's frequently used, decks can get pretty dirty in no time at all. Since multiple people might be walking across your deck every day, enjoying drinks and meals, and perhaps spilling different things on the deck floor, you may be surprised to see how quickly a new deck can look worn out and grimy without frequent upkeep.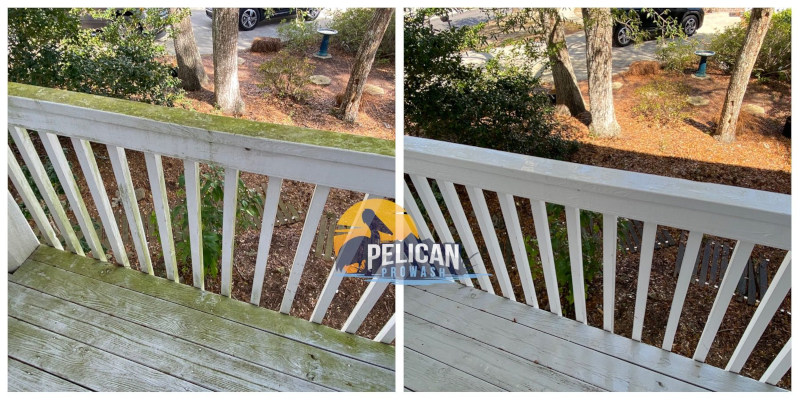 If you need professional deck washing services, look no further than our team here at Pelican Prowash. As soft washing experts, we're committed to helping local residents and business owners keep their exteriors looking and staying clean. Unlike other cleaning methods, our techniques don't require the use of any harsh or dangerous chemicals or high-pressure water. Instead, we take a gentler approach.
When you contact us for a deck washing service, we'll examine your deck to determine which types of cleansers are needed to treat different stains and debris. For instance, a stubborn stain from a glass of spilled wine will need to be treated differently than mold buildup. However, our professional cleaners will be able to select the best combination of cleaning solutions to get your deck looking brand new.
If you're concerned about your deck getting damaged or the paint getting ruined during a deck washing service, you can rest easy knowing that soft washing is a gentle, safe, and eco-friendly process. The cleansers we use pose no threat to your family, property, or plant life, and we don't use high-pressure water to treat difficult spots. After we complete your deck washing service, your deck will be restored to its original glory and ready to start hosting gatherings once more.
To learn more or schedule an appointment, feel free to reach out to our team!
---
At Pelican Prowash, we offer deck washing services in Southport, Chapel Hill, Cary, Apex, Holly Springs, and Wilmington, North Carolina.